2019/05/15
Roppongi Hills Clinic Interview with Case Study
Mr. Kikuta, Information Systems Division Manager
(Senior Medical Informatics Engineer / Medical Information Visualization Specialist)
Circumstances leading to the introduction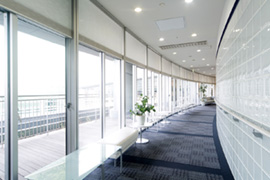 Due to aging, the medical checkup system used since the start of business could not cope with the new system and examination methods. We were no longer able to keep up with the paperwork situation, as the number of patients grew rapidly since the company started operations. Therefore, a system update became an urgent task.
Of course, it had to be possible to transfer all previous data in order to switch over from another company's system. And there were undoubtedly many segments, such as reports, etc., that we wanted to continue using. Therefore, we have compiled a "Request of Proposal" containing these issues, along with the problems in the current system and requests for future improvements, and have sent it to the relevant sections, and we asked parties from major institutions to start-ups for a proposal.
However, it was a rough working without a system that could satisfy functional and financial aspects, until, finally, the "Kenshin NAVI" of HIT Co., Ltd. was introduced.
Up to that point, the company that had been giving us proposals was basing their offerings on package products and could only partially handle the customization of correspondence. While there were many requests regarding that the aspect of the system that had no ability to correspond should be changed to something more practical, "Kenshin NAVI" was originally a product based on customization, so, in the end, it was possible to have this request incorporated down to the last detail.
In terms of expense, it was a decisive factor such that this system could be introduced at the same cost as the package products of other companies, in spite of being close to full customization.
導入の効果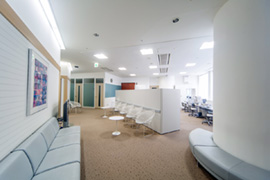 Introduction
As it was unthinkable to pause our medical checkup work, the situation was worrisome. I wondered if it was possible to make this shift smoothly in terms of data and operations in our daily work. However, in fact, via customization, existing forms and operations can be migrated with almost no change. In the end, there was no confusion in the field because the user interface was also made to match with the workflow of our hospital.
Efficiency of paperwork
Since human error is likely to occur if human intervention is involved, it was an issue to reduce manipulation as much as possible. One of the functions is "automatic selection and batch printing of documents required to be sent in advance, such as medical questionnaires and manuals, according to the medical examination items of the examinees," and the address and cover letters are also printed simultaneously. We just put them in the envelope, and thus the workload has been greatly reduced and there have been no deficits.
Contract conclusion
In the old system, all groups were managed by one master, but it was not possible to manage those interrelationships. In this system, it is possible to hierarchically and distinctively manage offices, health insurance societies, and agencies. By doing this, staff can understand contract information correctly and can cope with complicated course setting and billing.
In addition, requests from the accounting department will be easy to manage by customizing the intake of receivables.
Dealing with foreign nationals
Our hospital receives a large number of foreign nationals, thus it is necessary to be able to provide information in English. If you let the personal master set the language attribute, the burden on the office and the workload will be reduced. For example, forms can automatically be output in English.
In addition, we have introduced a mechanism that allows easy switching to the English version of your assessment findings, which helps to shorten the report preparation.
Enhancement of administrator tools
The customization of most of the forms and master maintenance can be done by the user, therefore it is not necessary to make a request for every change.
Log management is substantial, thus, even if problems occur, you can do simple casual research and solve the issue all by yourself.
Future outlook
As many of the medical checkups involve group reservations by exchanging lists, we intend to enhance the reservation registration function and to consider involving internet reservations.
Furthermore, for this hospital we set up outpatient services and a follow-up system for close examinations, etc., which is why we want to maintain close information exchange with electronic medical records.
Roppongi Hills Clinic
Opened in 2003; it has an outpatient services clinic and Health Promotion Center, supporting 16 medical departments.
The Health Promotion Center accepts approximately 16,000 people annually for thorough health check-ups.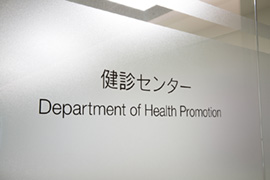 | | |
| --- | --- |
| 名称 | 医療法人社団ケアリージェンシー 六本木ヒルズクリニック |
| 所在地 | 東京都港区六本木6-10-1六本木ヒルズ森タワー6F |
| 診療科 | Internal medicine, cardiovascular internal medicine, respiratory internal medicine, digestive internal medicine,diabetes internal medicine, neurology, psychosomatic medicine, psychiatry, urology, orthopedics, breast surgery, dermatology, otolaryngology, ophthalmology, gynecology, radiology |
| 年間受診者数 | 人間ドック約10,000人、健康診断約6,000人 |
| 公式サイト | http://www.66clinic.com/en/ |